Announcements
Emerald Coast Throwdown June 25 (set up day) 26 & 27, 2021 at Fairgrounds. We still need lots of volunteers, especially on Sunday. If interested, please sign up here!—> https://swanscoring.com/Volunteer-2/
You will be rewarded for your efforts. Thank you for your continued support!
HERO WEEK May 24-28, 2021
Holiday Hours for Memorial Weekend
Closed Saturday May 29- Monday May 31.
CrossFit VU – CrossFit
On the morning of Jan. 23, 2011, Moore stopped a stolen vehicle in the 3400 block of North Temple Avenue.
As the driver, later identified as Thomas Hardy, and Moore were outside their vehicles, Moore was shot multiple times.
Officer Moore was wearing a bullet-resistant vest but was shot in the chest, the left thigh, and twice in his face. He was taken to the hospital and remained in a coma until his organs were donated on Jan. 26, 2011. Seven people received Moore's organs, including his heart, liver, lungs, corneas and kidneys.
Hardy, a 60-year-old parolee, was arrested later that evening and held for the robbery of a Dollar General store committed 50 minutes after the shooting. He's now serving a life sentence for Moore's murder. Officer Moore was 29 years old when he died and in his seventh year serving with the IMPD and was working in the North District. He was posthumously awarded the department's Medal of Honor and Purple Heart.
David Moore came to Purdue University from Indianapolis in the fall of 2000. A high school Varsity Football Team Captain, he was a stand-out candidate and was selected to receive a four-year Marine Corps ROTC scholarship. David was a leader in all of his endeavors at Purdue, be it in the classroom, weight room, or in training with the Midshipman Battalion.
When an old football injury resurfaced that prohibited him from commissioning as a Marine Corps Officer, David decided to pursue a career with the Indianapolis Metropolitan Police Department. His spirit and dedication to serve the people of the country he loved never faded and David continued his reputation of excellence while serving with the IMPD. His devotion and skill were recognized when he was awarded Rookie Officer of the Year in 2005, a Medal of Valor for a shooting in the line of duty in 2008, and the Medal of Honor for his actions on the day he was shot.
Moore (AMRAP – Rounds and Reps)
20-Minute AMRAP of:

1 Rope Climb, 15′

Run 400m

Max Rep Handstand Push-ups
In honor of Officer David S. Moore, 29, of the Indianapolis Metropolitan Police Department, died on January 26, 2011
To learn more about Moore click here
Scaled

2 rope climb prone to jumping pull up

Run 200-400m

Max Pike HSPU or seated DB Strict press
score will be total rounds plus reps of HSPU.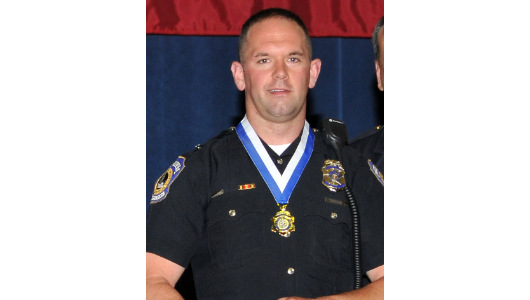 Officer David S. Moore, 29, of the Indianapolis Metropolitan Police Department